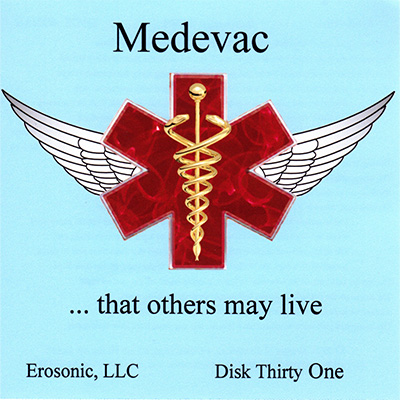 Medevac is Erosonic's thirty-first album, and it is an album with one song only.
Medevac is our first song where the entire focus is on those dedicated medical professionals who risk all to recover the casualties from the battlefield. The focus includes the aircrews, the PJs, the nurses, indeed all those highly trained, empathetic people whose mission is to rescue and save the lives of the injured.
It is an action song. The lyrics are highly descriptive. The rhythm and meter are fast-paced just like the execution of their mission.
Bridget Bradshaw, the author, is a registered nurse. She invokes the spirit of the military medical pros and brings it all to life in this song.
Album disks available at Erosonic and CD Baby only. Downloads and streams available at iTunes, Spotify, or your favorite download site.
Listen on You Tube; purchase at Erosonic or CD Baby